An in-depth guide for the Twig One device.
Twig One is a high performing, fully remote configurable, hard wearing and robust safety device, that is IP67 certified and meets relevant BS8484 criteria. Ideal for those that work in noisy and hazardous industrial environments.
The diverse range of lone worker environments means a growing demand for lone worker devices, apps and accessories.
The Twig One is a powerful lone worker device with high power speaker that boasts two-way communication and powerful vibrating and alerting alarms that help to notify lone workers of an alarm in noisy working conditions. 
A simple press of the large panic button will raise an alarm in The OWL Portal and open an audio channel to our dedicated response team.
If you don't use our response team, LONEALERT will initiate the calls, SMS and email notifications that you have designated as part of your response.
A serious choice for
heavy duty applications.
Indoor positioning
In many buildings the GNSS (Global Navigation Satellite System) signals are blocked and so the location of your lone worker is not known. The Twig One allows indoor locating through the SRD3 option which enables accurate location through using necessary bolt-ons such as RF Door tags, to record when rooms are entered and left, and beacons, to allow large areas to be subdivided. Both of which help you locate lone workers in need of assistance more quickly.
Powerful and robust
Powerful vibrating and alerting alarms to alert workers of preset alarms and incoming communications.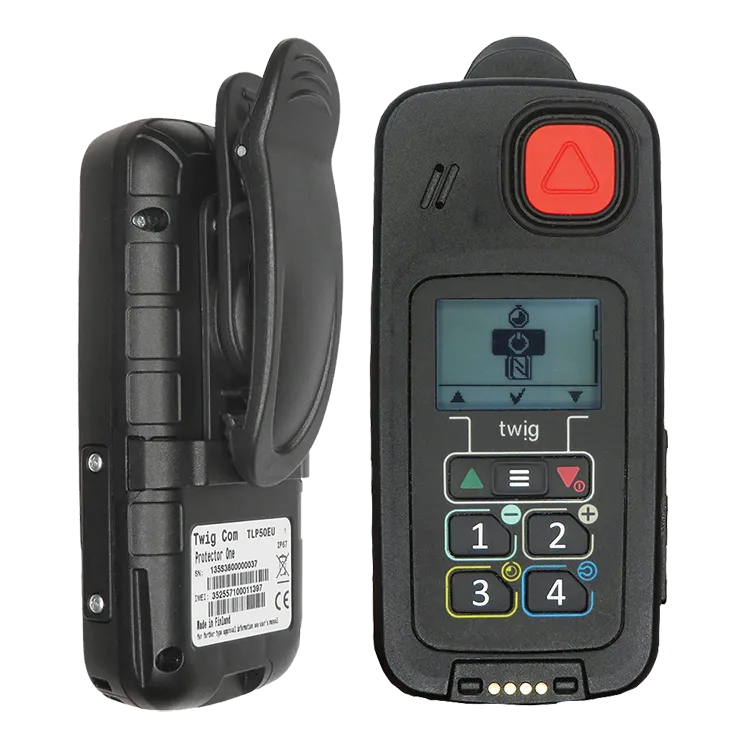 Fully customisable
This device is fully customisable. The duration of the man down pre-alarm countdown can be changed depending on your requirements. It is also possible to customise the time between tilt detection and when the device starts to alert the user an alert is about to be raised. These are both set to 30 seconds by default. The device can also be set to VIBRATE for panic and alerts.
IP67 rated and meets BS8484 criteria
The Twig One is waterproof with protection against the effects from immersion of water, of up to 1m for 30 minutes. It's also dust tight, with no ingress of dust. The device also meets relevant BS8484 criteria.
Compatibility and communications
| Time interval | Report frequency |
| --- | --- |
| | |
| | |
| | |
| | |
Satellite positioning system
Got a question
about your device?
For more information about this device contact your account manager or call us on 0330 999 8484.